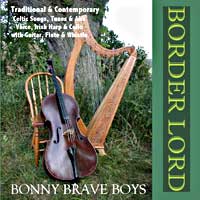 $15.00 +s/h
If you prefer, you
may mail in a printed
Order Form
Border Lord was recently featured in a television special on Iowa Public Television.

"Bonny Brave Boys" self-produced, 2003.
Rick Stanley on vocals and self-built solid pecan Tara McFall-style harp, Robin Pfoutz on a century old birdseye maple/spruce cello, Pat Egan on Santa Cruz guitar and harmony vocals, and Tim Britton on wooden flute, Copeland whistle, and bodhran. All arrangements by Border Lord. Produced and engineered by Tim Britton.
Traditional and contemporary ballads and airs performed on vocals, harp, cello, guitar, bodhran and whistle. Included in this collection are three airs written by Ireland's greatest 18th century harper, Turlough O'Carolan; two contemporary ballads written by Scotland's Andy Stewart and Ireland's Andy Mitchell; a contemporary air written by Thomas Walsh; plus three original ballads written by Rick Stanley. Features Border Lord's most inspired and subtle artistry, captured live using no overdubbing, mixing, compression, EQ, reverb, or other artificial enhancement by producer and engineer Tim Britton, who also joins in on flute and whistle. Chulrua's Pat Egan is also featured on his beautiful Santa Cruz guitar and harmony vocals.
Review (Dirty Linen)
"The good news is that Rick Stanley never left music at all. His latest effort is with his new band Border Lord, a traditional Celtic folk group with Irish harp, cello, guitar, flute, and whistle. Influenced by the old airs and tunes of Scotland and Ireland, Border Lord's music combines the harp (Stanley) and cello (Robin Pfoutz) in unique and clever arrangements using counter-melodies and rhythms. Stanley also sings on songs like "Beauty Is" and "Queen Ann's Lace." and his voice is rich and evocative. The standout track, perhaps, is "Bonny Brave Boys," a song inspired by Stanley's tour of Vietnam in 1965 and the numerous mothers awaiting their sons who never returned from battle." (Dirty Linen, #116, February/March '05)
Review (Green Man Review)
"...Border Lord's Bonny Brave Boys is, well, a bit different. 'Although it's very much a traditional instrument, I am sure some people still think the Harp is a bit limiting as to what you can do with it, - ditto the Cello! But after listening to this album, I think you might very well change your mind. This is a very nice, traditional based album, which should suit the traditional folk purists down to the ground.' Not sure about you, but I'm curious!" (Greenmanreview.com, January '05.)
full review:
www.greenmanreview.com/cd/cd_borderlord_brave.html

More information on Border Lord.
Track Titles
Samples*
The Light Dragoon4
listen
Road to Lisdoonvarna4
Stewball and the Monaghan Grey Mare4
Carolan's Dream2
listen
Bonny Brave Boys1
listen
The Princess Royal2
listen
Take Her in Your Arms3
Innisheer7
listen
Outlandish Knight1,4
Morrison's Jig 4
listen
Queen Anne's Lace5 /
Sidney Smith's March4
Indiana6
Lord Inchiquin2
Beauty Is8
Additional Samples from cdbaby.com
1 - Words and music © Rick Stanley
2 - Turlough O'Carolan
3 - A.M. Stewart
4 - Traditional
5 - Rick Stanley & Caroline Divoky
6 - A. Mitchell
7 - T. Walsh
8 -Words by Brendan Stanley, music by Rick Stanley
* Notes Regarding Playing Sample Files

The sample files above are in MP3 format and can be played by most media players, such as QuickTime, RealAudio (click on download free player link), Windows Media Player, Yahoo Player, and WinAmp Player.

If you click on "listen" and a media player does not open and play, you may not have an MP3 media player installed or properly installed on your computer. To download free media players, click on the media player of your choice listed above, then follow the download and installation instructions.

The sound clips are about 300Kb each.